For a very long time, men have used trees and shrubs to separate their plots of land. At Le Grand Potager de Fontenille, we are trying to restore this linear arrangement of vegetation, which establishes a network between the various zones favorable to biodiversity.

Multi-level hedge

It is a multi-tiered line of edible plants and berries. This hedge is inspired by the "garden-forest", that is to say that it is organized in a thoughtful way, with different levels of vegetation for a production of food, while imitating the natural forest.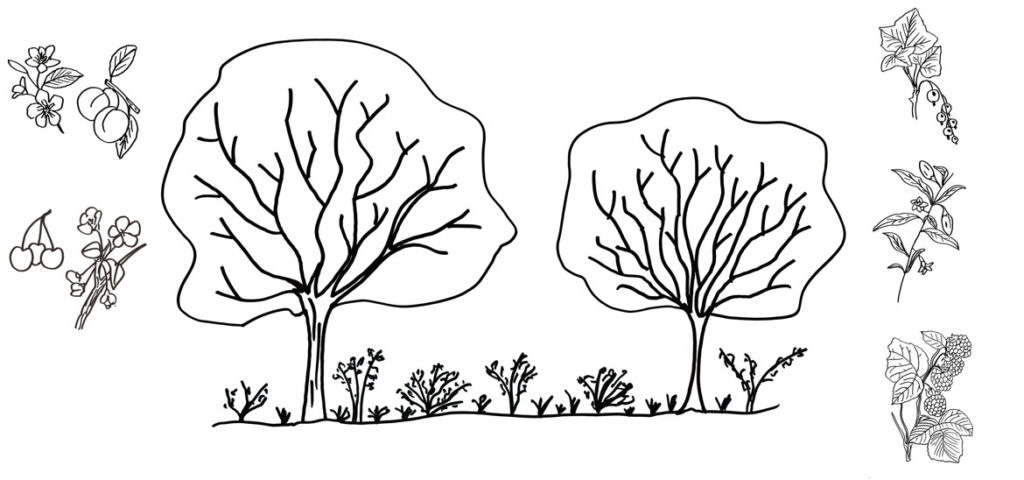 This hedge has several functions:
It acts as a windbreak to prevent drying of crops and soil.
It regulates temperatures.
It constitutes a natural and original separation from the garden.
It promotes plant biodiversity useful for nearby crops.
It shelters and nourishes a wild fauna. Many auxiliaries are present to effectively fight against pests.
It provides fruit.
It must be through and not waterproof. You still have to let the air circulate, for example, not to let the frost settle.
It consists of plantations with strata of different heights:
The first layer is created here by fruit trees: hazel, almond, cherry and peach.
The second consists of small fruit shrubs: Goji, Sichuan pepper, etc.
The third, of covering plants (plant covers) and aromatics (ex: Roman chamomile, thyme, yarrow)
Inter-plot fruit hedges

Inter-plot alignments of small fruit shrubs bring a diversity of productions. In addition to the vegetable yield, there is an important fruit production. They also participate in the landscape identity of Le Grand Potager de Fontenille. They are mainly composed of blackcurrants, currants and raspberries. There are also fig, plum, pomegranate, persimmon, bay laurel, quince trees etc…
---