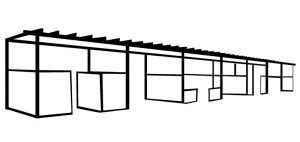 At Le Grand Potager de Fontenille, we make fresh compost ourselves, which is used as a natural fertilizer for crops.

Composting is the transformation of vegetable waste into a highly fertile soil that improves the structure and the fertility of the soil in which it is buried.

To make compost, we collect organic waste, from the kitchen and the garden, if they are small enough. We can also add some paper, cardboard, or paper towels if they do not have a trace of glue or ink.

In a few months, the different elements will decompose by natural aging, fermentation and also by digestion by the small bugs of the soil (earthworms, centipedes, clopores). These elements are compacted, reduced and become like fine soil, with a characteristic odor, which can be used to increase the fertility of the soil.
We compost only biodegradable waste :
–  Kitchen waste: peelings of vegetables, eggshells, leftover food …
–  Napkins made of paper and cardboard without ink or glue
–  Tea, coffee, ash in small quantities
–  Garden cuts and clippings
We avoid :
– Sick plants
– Branches that are too big
– Large shells (oysters, scallops …), unless they are crushed
– Leftovers that can attract small or large carnivores: fish waste and meats (bones, ridges …) unless the bins are closed.