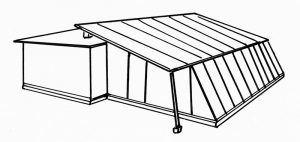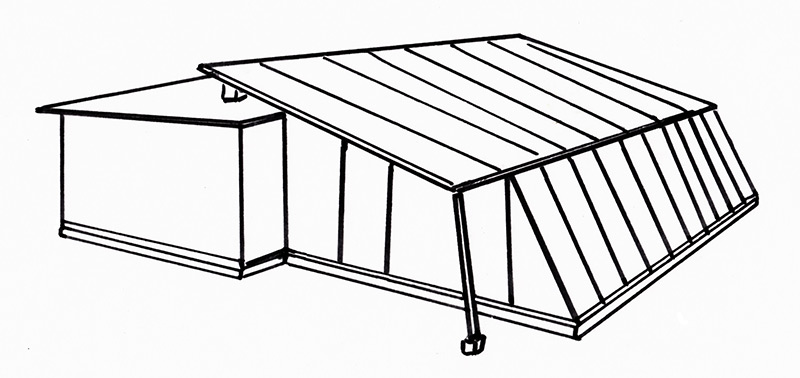 Designed by the Association for the Promotion of Ecological Techniques (APTE) and carried out as an integration project, this innovative greenhouse is part of an environmental and sustainable approach.

Also named "passive solar greenhouse", it is its components and its design that isolate it to reduce thermal losses. Thus, it stores solar energy during the day and restores it at night or during cloud sequences.

The natural convection of the air flows allows the outside air to enter through some openings along the edges of the greenhouse downwards and to escape over the entire length at the highest point of the greenhouse, which avoids overheating. For example, at night in winter, the temperature difference between indoor and outdoor can reach up to 20 ° in some areas of the greenhouse.  All this is automated system using thermal cylinders that do not consume energy.

The good insulation of the walls to the outside and the presence of an air gap in the roof polycarbonate sheets, keep the heat in the greenhouse.

The south wall is transparent (here in glass) so that the sun's rays enter the greenhouse. To collect optimal sunlight and maximum solar energy, the inclination of this wall is 65 ° relative to the horizontal, almost perpendicular to the rays of the winter sun.

The north wall is the storage space, which keeps the crops cool. The entire north face of the greenhouse is composed of a strongly insulating wall. This has the effect of keeping the heat in the southern zone and conversely keeping fresh storage areas in the north requiring low temperatures. A cold room located here can divide the energy consumption by 3.

A rainwater collection and storage system is used to irrigate the plants. Beyond the interest of not wasting this natural resource collected by the roof, rainwater is the best irrigation water (neutral ph, not mineralized, no pollutants, no chlorine, no germs …). It is also well suited for organic treatments, spraying of manure and biodynamics.

The collection and the dynamic storage of rainwater ensures thermal storage by inertia of the heat during the day and restores it at night, during cold periods. The advantage of this technique is that it can adapts to the seasons. During warm periods when overheating must be avoided, the water stored during the winter is gradually used and / or emptied, so the containers do not heat the greenhouse in summer anymore.

During winter, blackout blinds let radiation that heats the water storage during the day, while in summer they shade it. This gives a better control of the temperature.
Benefits of the bioclimatic greenhouse :
– The production period is lengthened. (About + 1 month of precocity).
– The production of certain vegetables becomes possible in winter.
– Aromatic plants, vegetables and flowers are protected from freezing.
– It complies with the organic farming regulations, which regulates the heating of greenhouses
Continue the visit :